Lava fountains rise and fall, but the river they  feed remains the same: a vigorously-flowing channel down to a wide ocean entry, with occasional small overflows slopping over the levees (banks). Last night, Fissure 8's fountains were reaching 200 feet; today they dropped again to 100-130 feet with bursts up to 180.  Its cinder cone, built of spatter and tephra falling around the fountains, is now 170 feet tall.
When is somebody going to name this pu'u? 
Frequency of earthquakes ramped up Thursday night, with more M3s than before. Today's M5.3 summit explosion was late, finally popping at 11:56am, sending up an ash-poor (?) cloud 10,000 feet. HVO: "It didn't produce a distinct plume, which is why we say 'ash and gases' instead." This cycle of daily explosive events has been going on since May 26 or 29, depending on how rigidly one defines the pattern.
#LeilaniEstatesEruption #KilaueaVolcano UPDATE: Any guesses on how quickly this river of lava is racing?! Amazing video of what #Fissure8 is producing taken today by Ken Boyer inside #LeilaniEstates. This footage hasn't been altered https://t.co/Jl7UJEjVSX @HawaiiNewsNow #HINews pic.twitter.com/NPrMRawB1y

— Mileka Lincoln (@MilekaLincoln) June 16, 2018
All right, let's get to the science. And a rather foggy but nevertheless genuine video clip of one of Halema'uma'u's daily explosions.
---
Video: Halema'u'ma'u Subsidence
Madame Pele picked less-than-broad-daylight for the first daytime explosive event since the livestream's been added, but at least we caught a glimpse.
USGS caption: "On June 15, 2018, a small explosion occurred at Kīlauea's summit at 11:56:39 AM HST. The event was captured by a live streaming camera and that footage is presented in this video clip. The earthquake starts at about the 0:39 mark of the video. The earthquake causes the camera to shake and over the course of the next few seconds, the rim of the crater subsides in several places, and numerous rockfalls occur (watch the crater rim at the lower left). Rockfalls also spall from the opposite wall of Halema'uma'u. After the earthquake, the video accelerates to 20x to show the plume of ashy material that results from all of the rockfalls and subsidence."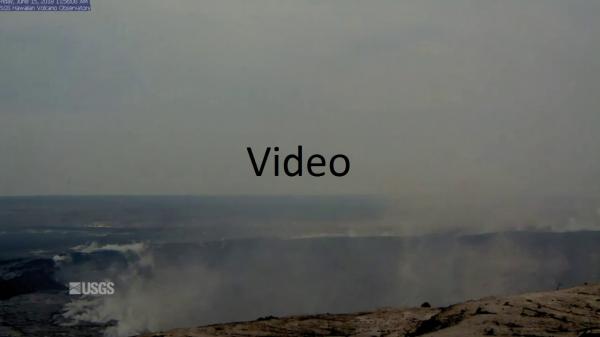 USGS Lava Field Map
Total lava coverage:9.2 square miles. Lava delta: ~320 acres.
I keep being astonished at this ocean entry front instead of an ocean entry point.
While it looks like it's not gobbling up land quite as quickly as it was, "the lava flow front at #Kapoho is very broad and some of the lava is erupting underwater, which may account for the appearance that the eruption is slowing, but we haven't seen any decreases in output from fissure 8 yet." — USGS
Five-Minute Eruption Summary from Park Service
USGS isn't going to be doing press briefings on Friday and weekends anymore unless something big happens, but today the National Park Service (displaced rangers from Hawaii Volcanoes National Park) put out a suitable-for-all-ages informative video of the eruption so far:
USGS 11AM Media Conference Call
Spoke too soon, looks like they did do a media conference call today. Here's the USGS report, which is an excerpt from a 30-minute conference call:
Mike Zoeller, geologist, University of Hilo stepped in for USGS today
USGS on Social Media: Q&A
Ah, here's why Fissure 8's cone doesn't yet have a name: "There's no particular point at which it gets named – the only condition is that the cone has to persist once the eruption is over. The #USGS doesn't get to name it; rather, it's the community and local elders who decide."
Also not their call: decisions about "public viewing areas" or platforms. "We can advise @CivilDefenseHI on what areas are safer to access than others, but they make the decisions on what's restricted and not."
It seems to be a bit more common on Mauna Loa, but that doesn't mean it's unusual for Kilauea. Fissure eruptions do sometimes focus on one vent, and channelization is a common behavior for a lava flow.

— USGS Volcanoes🌋 (@USGSVolcanoes) June 16, 2018
Here's why the lava channel is not making a lava tube: "The lava flowing outward from fissure 8 is too voluminous and fast for crust to form on the top. That the channel is open rather than roofed over is a factor of turbulence/friction in the flow."
Also, while the summit's deflation is indirectly related to its magma moving down into the East Rift Zone, "we haven't seen a clear pressure connection between summit events and fissure 8's activity. Magma is moving into the Rift Zone at the same rate it's moving out – a steady state of flow." — USGS
SUmmit Subsidence Continues
The latest Kilauea summit radar was released late yesterday. The accelerated slumping on the NW side of old Halema'uma'u is sobering:
May 29 was about when this once-a-day-explosion pattern really settled in.
Despite this drawdown, HVO scientists expect lava to return:  "In the past, activity has shifted away from #Halemaumau to locations farther downrift, persisted for a while, and then moved back to the summit (see [link] for the history). Fissure 8 may last for a while, but it's not likely to become the main eruptive center." (They said much the same thing to someone asking if Halema'uma'u's collapse was the "death of the volcano.")
I'm relieved to hear HVO is hauling away irreplaceable items: "The #Halemaumau crater is already expanding toward HVO, and earthquakes have damaged the Observatory. Important historical materials are already in the process of being relocated to a safe storage location, so yes, we would make sure all of that is protected."  I trust Jaggar Museum is part of that effort. Because it looks like there's an outside chance it could become part of the crater floor.
Great question posed to Hawaii Volcanoes NPS, even if there's no definitive answer yet:  "With hundreds of earthquakes on a daily basis, the Thurston Lava Tube may have sustained damage, but there has been no assessment done since the activity continues." (For those who don't know, it's an ancient lava tube large enough to walk inside, from a 70-year eruption in the 1400s. Which makes me think it's pretty durable.)
From Other Scientists
From Hawaii Civil Defense: Fire & Water
I'm going to stop posting CD alerts unless they post specific eruption info. But I see they just posted a June 15 overflight photoset. One vid & five photos on a moody, stormy day:
From residential neighborhood to lava lake:
See also large closeup of the "lake's" surface.
Future tidepools, if ocean & lava both agree to leave them be:
Roads on the 1960 Kapoho eruption disappear under the lava of the current one:
Some farms are holding on:
From Local News Outlets
Mick Kalber Overflight
Here's Mick's comments for this video.
Words of Wisdom
So glad I finally stumbled across Dispatches from Volcano. Bite-sized eyewitness reports from a native Hawaiian perspective.
Social Media Roundup
Looks like I'm not the only one scrabbling for then-and-now photos of the summit. But GBradLewis has his own photos to choose from. (Note that his is from further up so one can see the rim of Kilauea caldera, with Halema'uma'u inside of it.)
Kilauea Summit October 2017 pic.twitter.com/Yx23K4D76Y

— Rosie 005 (@rosiebray65) June 16, 2018
Kilauea Volcano
June 5th next to June 13th fly over photos. pic.twitter.com/1ZLXDunM2O

— Rosie 005 (@rosiebray65) June 16, 2018
A certain resort on Hawaii's Big Island that claims to be more than 100 miles away from the volcano (they're really 68 miles away) & brags there's no impact at its resort has quietly disabled webcams showing today's bad vog …at their resort. 🤔😂 #KilaueaEruption

— the Weatherboy (@theWeatherboy) June 15, 2018
#LeilaniEstatesEruption #KilaueaVolcano UPDATE: What does a river of lava look like?! Incredible footage by Tara Crystal captures how fast-moving the flow produced by #Fissure8 in #LeilaniEstates is as it travels across the #LERZ https://t.co/uLLKx2wPQf @HawaiiNewsNow #HINews pic.twitter.com/bCdspxBRjl

— Mileka Lincoln (@MilekaLincoln) June 16, 2018
Sakurajima is on my bucket list as the only active stratovolcano I ever want to see…
Sakurajima showing Kilauea how it's done this morning! 🙂 pic.twitter.com/IM1M6wcInL

— James Reynolds (@EarthUncutTV) June 16, 2018
Volcanoes that erupt all the time tend to be better-behaved, because they're less constipated.
Shiny #olivine in #basalt from Piton de la Fournaise! 🇫🇷🌋 with @LMU_Volc pic.twitter.com/WPeZUj7tTH

— Rock Lab Strasbourg (@LDR_Strasbourg) June 14, 2018
I just can't let this go can I
'.
Daily #KilaueaEruption media briefing getting shorter & shorter as media interest wanes, but @NWSHonolulu's @bodyboarder22 provided good meteorological overview of #pyrocumulus being generated, as this photo of Hawaii from #ISS shows. #HIwx pic.twitter.com/xr2JL8AMSm

— the Weatherboy (@theWeatherboy) June 15, 2018
.@usgs scientists survey the lava river from fissure 8 to Kapoho. #KilaueaEruption #Hawaii pic.twitter.com/CWdDYeB15Y

— Anthony Quintano (@AnthonyQuintano) June 15, 2018